Gossip Girl. Good evening Bay Area-ers. I read the books. At age 11. Was scarred by all the sex scenes and hardcore party scenes.
Everyone who is anyone is watching it. Reading this and disagree with me? Yeah, point proven.
What is so intoxicating about this show? Is it the snarky voice-overs of girlcrush Kristen Bell? Or the cheekbones of one Charles Bass? Or is it even in the slight hope that once again a catfight of two excruciatingly gorgeous rich bitches will grace our flatscreen televisions? My theory: the clothes. Think about it. Josh Schwartz has once again achieved popular success that rivals and probably even topples the popularity of his previous gem: The O.C. Sure, the writing on the show can be witty (and sometimes cringe-worthy, Motherchucker, anyone?) and the acting isn't BAD. (Have you
seen
the chemistry between Chuck and Blair?
Damn.
) The plot twists are not too predictable either.. (Okay so we
did
see Serena's little brother being outed, Oh wait no. That was me. Reading spoilers.
Oops!
)
Sex and the City
. A show ridiculously popular with the women. And a few men as well. When the movie (horrible, by the way) came out in theatres, women flocked to the theaters. No surprise there. However, all of they came clad in their armor and Carrie Bradshaw-inspired attire. Sitting in the theatre for 2+ hours in tight-fitting clothes? That's love right there. I still have problems with much of what Carrie wore on the show, however.. there's enough ranting for a whole nother post about that one.
Blair Waldorf, my hero. Why? Her insecurities and general paranoia about anything and everything in her life. Her need to be obsessively in control of any situation. Her friendship with mother figure Dorota and Dorota's party planning abilities are too cute. Her need to convince herself that she is not in fact a scheming bitch. But she totally is. But we totally forgive her. Because she is the epitome of fabulous. It is a difficult task to shine whilst standing next to glamour girl Serena van der Woodsen who has legs up to
there
, and yet she pulls it off. While wearing a headband! Can we
ask
for any more from this girl? (The answer is no. Except maybe be our bffl?)
Without further ado, I present to you the..
Top Ten Outfits of Queen B: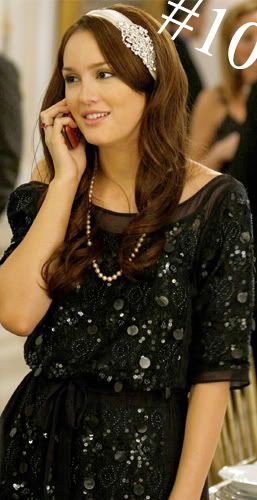 The dress is nice and all. (Okay it's gorgeous.) But I barely noticed because I cannot stop staring at that headband. Wants it. My preciousss.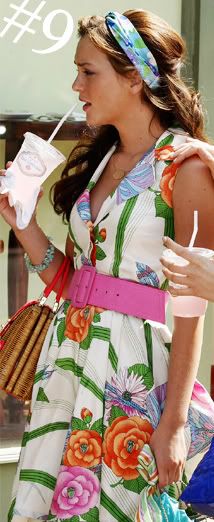 I want this entire outfit. And possibly a bright pink lollypop to accessorize. (Tried and probably failed to copy this headband with a patterned headscarf. Previously mentioned slighty metro boyfriend definitely picked up on the influence.)
I have a relationship with this outfit similar to the one I have with my mother. I kind of love and am disgusted by it. At the same time. I would wear every single part of that outfit. In fact, I want it all. Just maybe not together. The cape itself however, steals this #8 spot all on it's own.

I like to think that Blair and Chuck are matching in this picture. Headband plus adorable dress = made of win. I also want her hair. And it doesn't make me feel any better knowing that Leighton Meester wears a wig for the character of Blair Waldorf.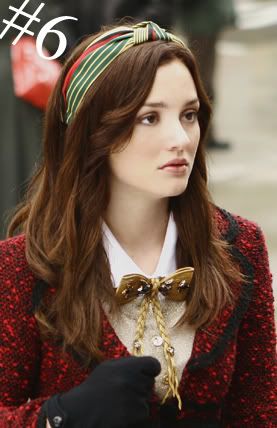 Turban headband. Loves it! I would never imagine wearing all that together, but once again B rules. I think they should do an episode where Blair visits California and redoes my wardrobe.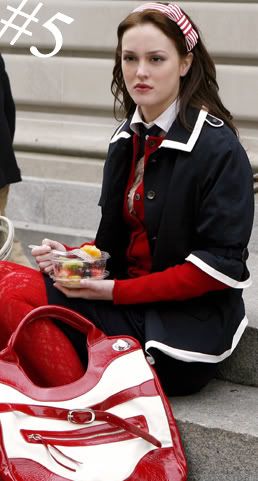 Navy Blue. White. Red. Our little Blair is oh so patriotic. Everything matching. Bright flahes of red? Little J totally tried to steal that look but with purple. Nice try, Jenny. (By the way, have we seen her new haircut? Don't get me started. Okay, just one comment, Why. Would. She. Do. That. just as she's trying to launch her modeling career with IMG Models? Seriously.)

So many amazing pieces. And they actually work without being too busy. I kind of want some sheer white tights now. What would I wear them with?! (Does it matter?)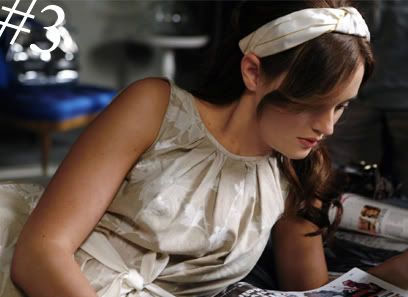 I so love that Blair wears this to hang out with her friends at home. I think I would make up an excuse to leave my house just so that I could wear this. In fact, I definitely do that all the time. Social pariah. I think I have an unhealthy obsession with these turban headbands. In fact, has there been ANY outfit without a headband? Oh dear.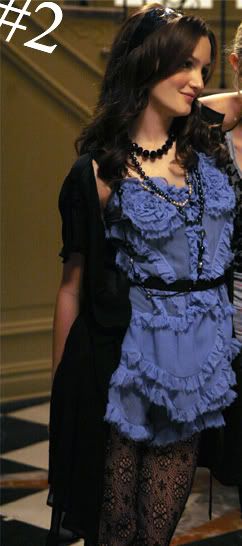 Lacy black tights. Amazingly textured slip dress? A jeweled headband? AND she's in the middle of corrupting little J? We want to be her. Or at least have this outfit. Or at the very least the tights. In 8 colors.

Squee! Cape! [EDIT: Slightly metro boyfriend has informed me that "cape" is actually "shoulder shawl" One of many reasons we keep him around.] Tights! Purse! Dress! Apparently I can't form actual sente- oh, there we go. If I could marry an outfit, (Yes yes, I would have serious mental issues) it would be this one. As the slightly metro boyfriend proclaimed "Jesus christ, that entire outfit. Just works."
You Know You Love Me, XOXO...